Photography is powered by Vocal creators. You support
Evelyn Starr
by reading, sharing and tipping stories...
more
Photography is powered by Vocal.
Vocal is a platform that provides storytelling tools and engaged communities for writers, musicians, filmmakers, podcasters, and other creators to get discovered and fund their creativity.
How does Vocal work?
Creators share their stories on Vocal's communities. In return, creators earn money when they are tipped and when their stories are read.
How do I join Vocal?
Vocal welcomes creators of all shapes and sizes. Join for free and start creating.
To learn more about Vocal, visit our resources.
Show less
The 10 Most Coveted Vintage Cameras
Finding the right way to capture your retro outfits with the most coveted vintage cameras has never been easier.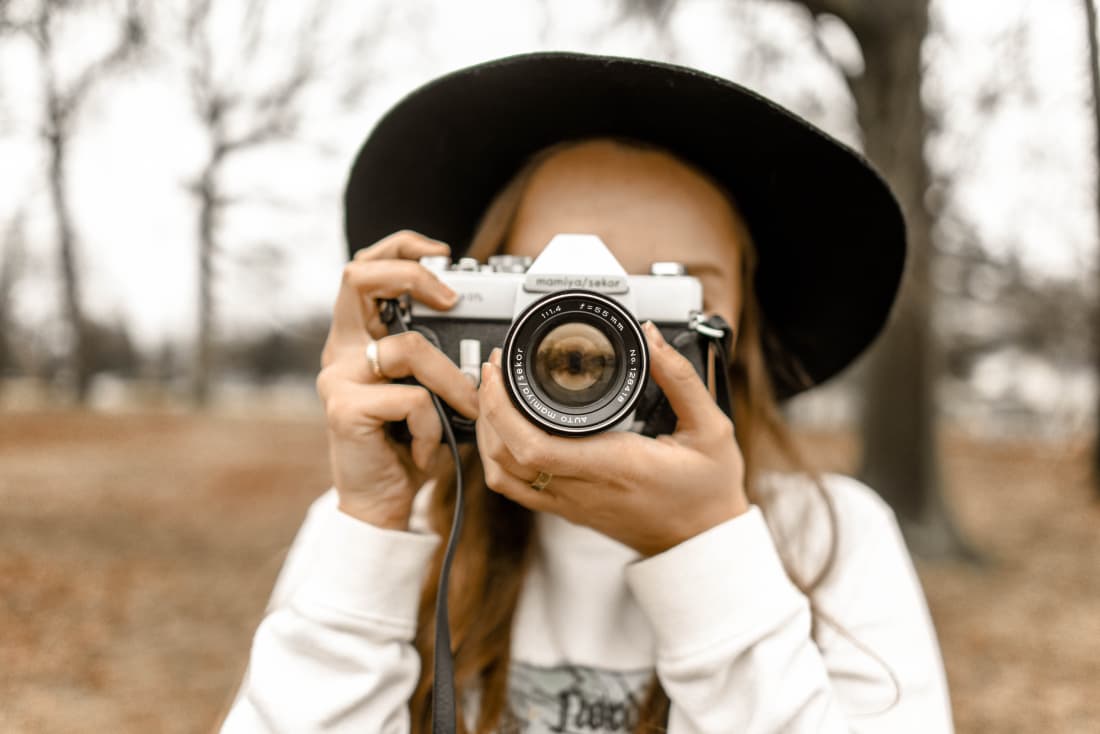 In a world where most things revolve around instant gratification, a trend has developed to slow down, and return to the basics. Taking a selfie on your phone camera is quick and easy, but does it truly capture a valuable moment, one that has taken work to capture? The history of the camera is an evolutionary spectacle, and film photography is making a major comeback, no longer just for the professionals. Manual cameras have persisted through the digital age, and we can promise you: The gratification of taking the time to zoom, focus, flash, and click the shutter release is worth it.  Find the most coveted vintage cameras that fit your style, and get ready to capture memories.
Nikon F2
This 35mm SLR camera is the second edition in the series of Nikon F cameras, which all feature the bayonet lens mount. The all-mechanical camera produces razor sharp images, and controls for unwanted vignettes. This babe is ideal for portraits and low-light conditions. Play around with the focusing on the F2 by utilizing the focusing point, which is similar to a rangefinder. The F2 is the face of versatility. You can easily change your lenses, or remove them completely for a freestyle way to shoot things close up and in vivid detail.
Pentax K1000
All about simplicity? On a bit of a budget but still want a high quality camera? Look no further than the famed Pentax K1000. With a wide range of shutter speeds and various lens compatibility, you are truly getting the whole "beginner" package with this vintage camera. The split-prism viewfinder allows you to focus on your subject in an intuitive way, while still offering the gratifying job of manually setting up your image. This is the vintage camera poster child, in a package that won't break the bank.
Rollei 35 S
Searching for a mini high quality camera? Look no further than this stud. With a collapsable 40mm lens (you can fit this thing in your pocket), and a front-centered control panel, the Rollei 35 S is built for compact, quick shots on the fly. This coveted cam is for the minimalist artist, who appreciates efficiency and pragmatic design, without forfeiting high quality photos.
Lomography Lubitel 166+
Ready to push your artistic tendencies to the max? This beauty shoots both 120mm and 35mm film, and produces the most stunning double exposures. You can also get Instagram-worthy panoramas with the vintage camera by turning it on its side (thank you, adaptable sprocket holes!). Think the customizability is over? Think again! You can remove the back of the Lubitel 166+ and put on different attachments, such as wide angle attachments or Polaroid backs on it! Choosing between good lens vs better camera has never been easier, as the attachment options for this beauty are truly endless.
Leica M6
This highly coveted rangefinder is not easy to get your hands on. Not very many of them were made, and the ones that are for sale may break the bank. However, for those aiming high, this camera is a pristinely-made, durable piece of equipment. Ideal for street photography and humble subjects, this tank steers clear of frills. The Leica M6 is not for the faint of heart. Being a rangefinder, you don't actually see through the lens, so you are completely blind in terms of how your film will come out. This is the ideal camera for those who want to shoot with a historical, timeless piece of equipment.
Mamiya RB 67
Weighing in at about 5 pounds, the Mamiya RB-67 medium format camera is not aimed to be a travel-friendly, convenient point-and-shoot. This revolving back (hence the name, RB) body allows the photographer to easily switch between landscape and portraits. Great for studio and portrait photography, this SLR machine will enrich color and black and white photos.
Polaroid SX-70
Perhaps the most trendy vintage camera of all, the Polaroid SX-70 is the gem of Instant Film and compact cameras. This camera offers the instant gratification that we all crave, but in a quintessentially vintage body and format. Want to sport this babe at the hippest music festival? No problem, you can fold it down and stuff it in your bag. Offering intuitive mechanics and a simple viewfinder, you basically just need to make sure you're not blocking the light meter in order to get a decent shot.
Canon AE-1
The meat and potatoes of manual 35mm SLR cameras, the Canon AE-1 is a simple machine that can easily be adapted to the frills of modern times. This is the perfect camera for those who don't want to be bogged down in the mechanical settings of a film camera, but still want to shoot film. It can essentially function as a point-and-shoot camera, given that it has a wealth of auto functions built in. On the other hand, it's easy to attach different lenses to the body and achieve a more unique aesthetic. The AE-1 has been around for a long time, proving its durability and ability to produce super high quality frames.
Hasselblad 500C/M
This one is not for the budget-minded, nor for the amateurs. The Hasselblad 500C/M brings you back in time, as you turn the crank to advance the film, and utilize the look-down viewing screen. A hefty and gorgeous machine in and of itself, this vintage camera has been around for a long time for a reason. This gem is perfect for those who are trying to push their artistic limits, both by using a classic piece of equipment, and using their own creativity to customize the body of the camera by switching out film types and camera backs. This camera allows the artist to truly shine.
Yashica T4
Finally, this 33mm point-and-shoot is a humble classic. With the ability to add zoom, this babe bridges the gap between fully manual, old school cameras and modern digital cameras. The Yashica T4 also has various shutter speeds, including a two-second speed for tripod moments, putting your questions about composition techniques to rest. These shots are sure to give you those 1970s vibes with their bright whites and muted hues. You can count on performance and versatility without the necessity of becoming an expert of coveted vintage cameras with this camera.