Photography is powered by Vocal creators. You support
Patty Ramsen
by reading, sharing and tipping stories...
more
Photography is powered by Vocal.
Vocal is a platform that provides storytelling tools and engaged communities for writers, musicians, filmmakers, podcasters, and other creators to get discovered and fund their creativity.
How does Vocal work?
Creators share their stories on Vocal's communities. In return, creators earn money when they are tipped and when their stories are read.
How do I join Vocal?
Vocal welcomes creators of all shapes and sizes. Join for free and start creating.
To learn more about Vocal, visit our resources.
Show less
Best Street Photography Cameras Under $1,000
These street photography cameras under $1,000 perform like they're priceless.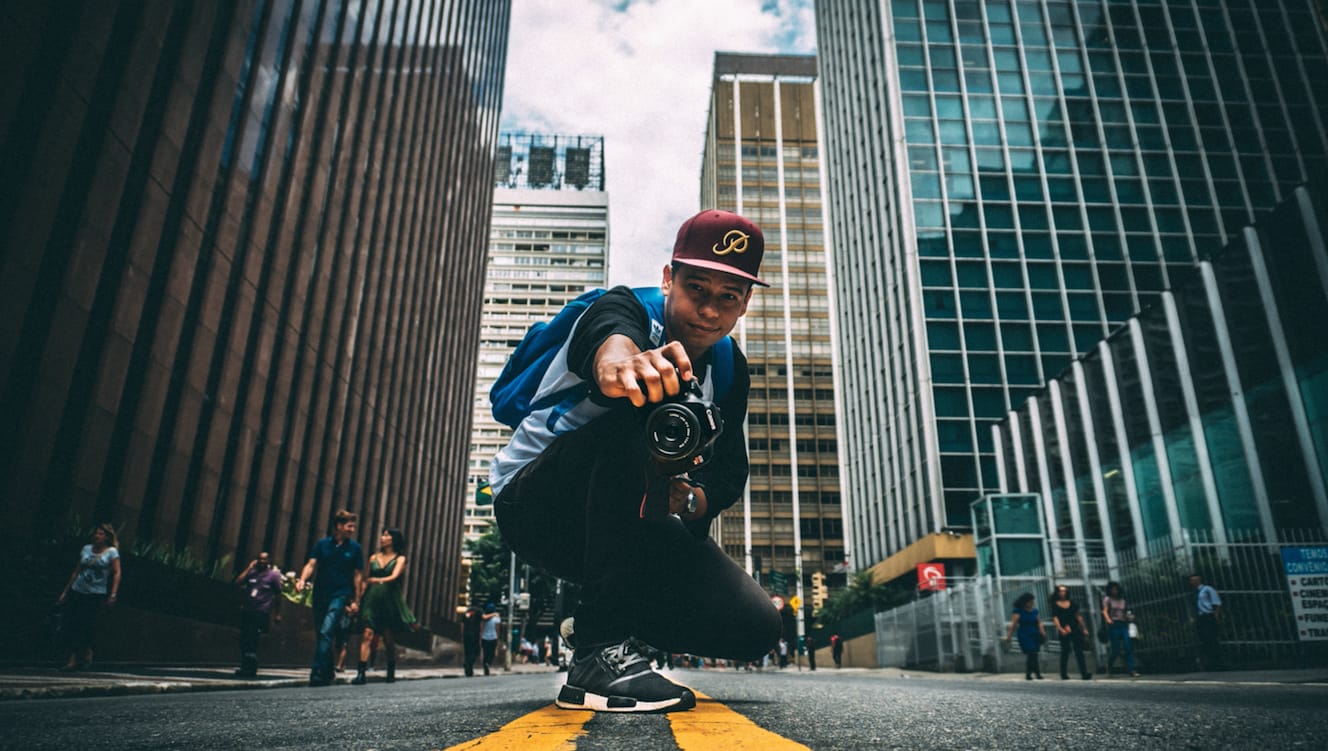 Smartphone cameras are great for a quick shot that's full of color, clarity, and quality, but when you're trying to capture that perfect beach sunset or wildlife photo, nothing beats a high-quality camera.
If you're looking to fit something more capable than a smartphone cam, but not as big and bulky as a full on professional camera, there are some excellent, high-quality street cameras to choose from for under $1,000.
Cyber-shot DSC-RX100 V 20.1 MP Digital Still Camera by Sony
Simple yet capable are the words that come to mind when considering this particular street photography camera under $1,000. The Sony Cyber-Shot DSC-RX100 V is a 20.1MP Digital still compact camera that features a 3" OLED flip screen, Wi-Fi capability, and a 1" Exmor RS stacked back illuminated CMOS sensor w/DRAM, to name a few. 
This Sony Cyber-Shot also gives you a 3.6x optical zoom that tightens up that street shot, a super-slow motion video for artistic video effects, and great vlogging capability with its fast hybrid AF and 4k movie with direct pixel readout.
You'll never miss a shot with it's one of a kind, continuous shooting speed, allowing you to shoot at 24fps3 with autofocus system and auto exposure tracking. This feature alone is a great reason to buy the Cyber-shot, especially if you enjoy shooting high-speed photography. 
PEN E-PL9 Mirrorless Micro Four Thirds Digital Camera by Olympus
The age-old debate between good lens vs better camera may come to mind when you're considering your wallet; but not only will you get the Olympus PEN E-PL9 Mirrorless Micro Four Thirds Digital Camera body for under $1,000 with this option, you'll also receive two lens: an Olympus M.Zuiko Digital ED 14-42mm f/3.5-5.6 EZ lens and an Olympus M.Zuiko Digital ED 40-150mm f/4.0-5.6 R lens. 
The Olympus PEN E-PL9 comes with a 16MP live MOS Image sensor, built-in flash, 180 degree tilting touch screen, 3-axis image stabilization, touch to focus and shoot, built in Wi-Fi and bluetooth, TruePic VIII image processor, 4K Ultra HD video, and silent-mode shooting. 
X100T Digital Camera by Fujifilm
This street photography camera brings a little retro punch in its styling, yet it has all the capability of a high-quality, modern camera and then some. The Fujifilm X100T Digital Camera gives you a little luxury as well as function with its Advanced Hybrid Viewfinder, which combines both an electronic and optic viewfinder that the camera switches between based on sensory data from the eye sensor.
What else does it have? Well, for starters, it comes equipped with a 16.3MP APS-C X-Trans CMOS sensor, built-in 23mm f/2 lens (equals 35mm length). For low light imaging at high ISOs the Fujifilm X100T comes with an EXR Image Processor II for excellent image quality. It can also perform up to 6 fps for repeated shooting. And, of course, there is a built in flash and hot shoe.
Additional features include a silent, electronic shutter that can close at 1/32,000 second rate, Wi-Fi capability, and 1080p video quality features. 
D5500 DX-format Digital SLR Dual Lens Kit by Nikon
The Nikon D5500 is a beautiful street photography camera under $1,000 that actually comes with two interchangeable lenses for varied shooting. This is a compact Digital SLR camera that provides sharp 24.2MP photos. It is also able to shoot full 1080 video at a 60p speed frame rate for smoothness. 
You can retouch shots and add filters directly from the camera, and share with other devices on the spot with built in Wi-Fi capability. Its display is a flip touch screen for added versatility so you can see in full color all of the crisp high resolution photos you've taken with one of the two lenses: the Nikon AF-P DX NIKKOR 18-55mm f/3.5-5.6G VR  or the Nikon AF-P DX NIKKOR 70-300mm f/4.5-6.3G ED. 

COOLPIX P1000 16.0MP Digital Camera by Nikon
If want a little more customization and manual control in your street photography scene yet still enjoy the ease of a point and shoot camera, you may want to consider a great, manual-friendly camera that's very capable of taking exquisite shots. Enter the Nikon COOLPIX P1000 16.0MP, a street photography camera under $1,000 that won't disappoint. 
This Nikon features a 3.2" TFT LCD display, 125x optical and 4x digital zoom, JPEG digital still and MPEG-4 movie recording formats, Dual Detect image stabilization, at least 10 different scene modes plus additional exposure modes, custom and preset white balance controls, built-in auto flash, great battery life with the Rechargeable li-ion battery, and built in Wi-Fi, making this a great camera for a great deal. 
D5500 DX-format Digital SLR Dual Lens Ki by Nikon
Sure it comes with many accessories, but the real value of this camera is found in its function. This street photography camera under $1,000 features an optical sensor resolution of 12.8MP with 1.5" CMOS sensor, 5x optical zoom, 1080p video capture resolution, and an electronic viewfinder. 
The lens itself is a 24-120mm f/2-3.9 (35mm equivalent), and the camera has a DIGIC 6 image processor. And, yes, you'll also receive a bag, along with a memory card, helpful cords, and a camera stand so you won't need to bust your $1,000 budget on accessories. 
LUMIX DMC-LX100K Camera by Panasonic
An excellent choice for a street photography camera under $1,000 is the Panasonic LUMIX DMC-LX100K camera. Competitively priced, the Panasonic LUMIX is packed full of valuable features such as manual control, a large multi-aspect 4/3" type MOS sensor for 12.8MP still images, 4K Ultra HD video at 30 and 24 fps with the ability to capture 8MP still frames from the video.
Additionally, this camera features a built-in Leica DC Vario-Summilux zoom lens for a 35mm equivalent focal length, with a f/1.7-2.8 aperture. This camera is very well suited to adapt to different lighting situations, and comes outfitted with a flash shoe for particularly lowlight situations. 
The LCD screen features color accurately using most of the Adobe RGB color space. And like most modern digital street cameras, the Panasonic LUMIX is Wi-Fi enabled. 
GR II Digital Camera by Ricoh
If you don't need all the capability of a high-end street photography camera under $1,000, but you still want an excellent, dependable camera that sits lower on the price spectrum, take a look at the Ricoh GR II Digital Camera. 
It features a 16.2MP APS-C CMOS sensor providing high-quality images up to ISO 25600, a GR ENGINE V Image processor, and a Ricoh GR f/2.8 fixed lens (equivalent to 28mm). It's small and compact, so storage is never an issue. Plus, this too has Wi-Fi and NFC connectivity. 
C-Lux Digital Camera by Leica
The Leica C-Lux is a new camera expected to wow street photographers soon. That's because there is so much potential outfitted in this street photography camera. The C-Lux comes with a 20.1MP 1" MOS Sensor, a Leica DC Vario-Elmar 15x Zoom lens, 24-360mm (35mm equivalent) lens, and a 0.21" 2.33m-Dot Electronic viewfinder for live view. 
Modern features boast a UHD 4030p video capability, 5 axis optical image stabilization, and Wi-Fi and bluetooth capability for instant sharing of photos via the Leica C-Lux app. 
One of the best things about this camera is its built-in, pop-up flash, to instantly combat those lowlight situations; and as if that's not enough, look at its attractive design and elegant finish. 
Alpha a6300 Mirrorless Camera by Sony
Falling in love is easy to do with this street photography camera under $1,000. The Sony Alpha a6300 Mirrorless Camera with lens is simple, straightforward, and designed with function in mind. 
The Sony Alpha features a 16-50mm f3.5-5.6 OSS power zoom lens, 24.2MP APS-C Exmor CMOS sensor, 4K QFHD video, 11 frames per second speed, and ISO 100 - 25,600 up to 51,200, 2.95" wide angle LCD monitor, BIONZ X image processing, built-in, pop-up flash, 425 point phase detection autofocus, Wi-Fi capability, near-field communication, 4D focus, face detection technology, and XGA OLED Tru-finder.